"Here's the Full Lookbook for Kith and Coca-Cola's Nostalgic New Capsule Collection" – Complex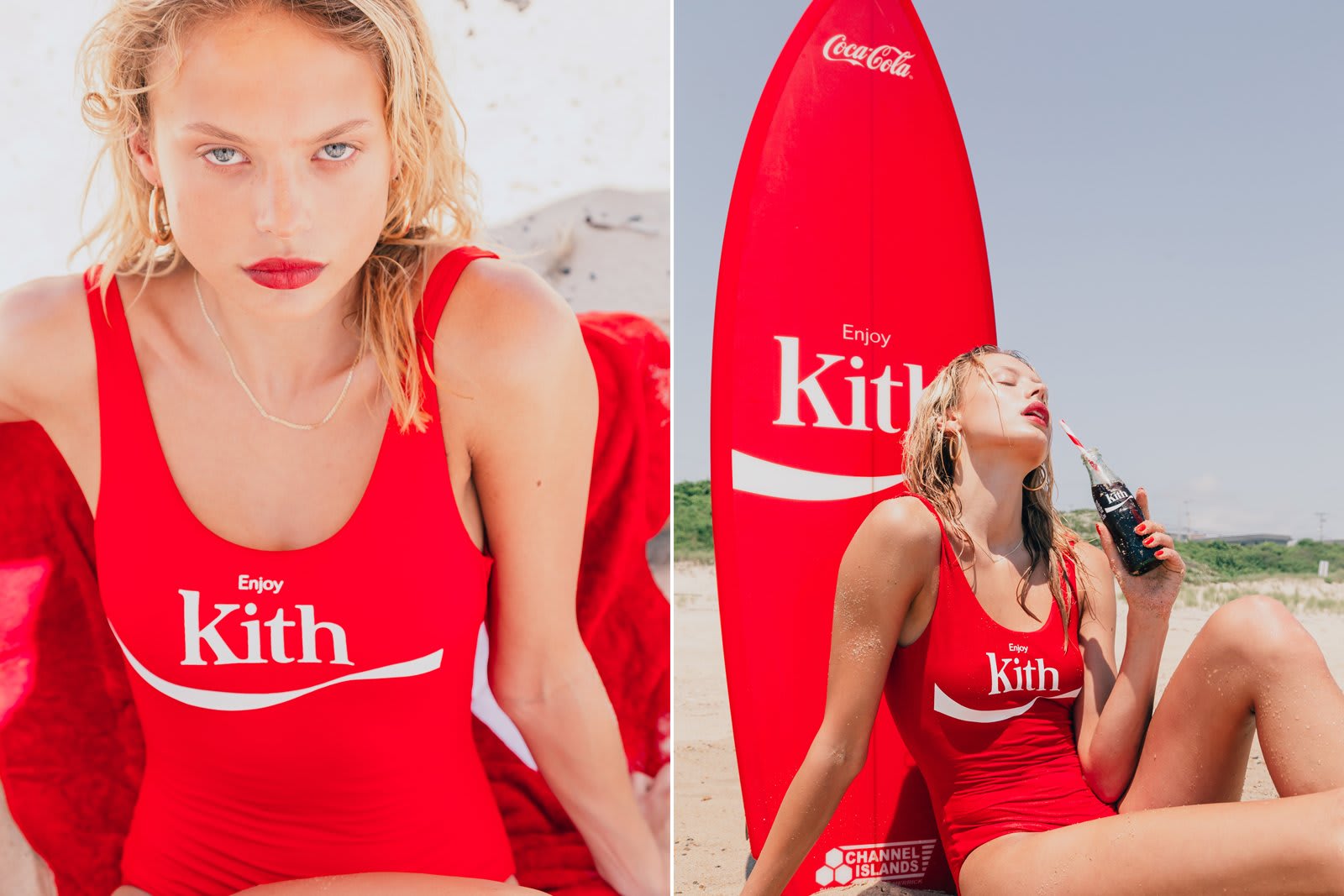 I've spoken about Kith quite a few times now because I really like the store. I think it is really cool and does a tremendous job of drumming up anticipation and creating a great sense of urgency around its products. Most of the time, I will look at something and think about it for a while before purchasing whereas with Kith you know that you have to get it instantly or it will be gone. Throughout the summer they have been releasing new logo tees every week, each of them generating a round-the-block line and selling out online almost instantly. The t-shirt program is surely highly profitable for them and a fun, creative outlet for the designers. However, the new Coca-Cola collaboration is a large feat for the brand, and for women's Creative Director Emily Oberg who worked on the capsule collection. I really like Emily too. Based on interviews I've heard (like last week's Improper Etiquette podcast), she seems like a genuine person with a good head on her shoulders. Plus, she has a killer Instagram so that helps in the social media age. The Coca-Cola collection itself features styles for both men and women, hoodies to swimwear and everything in between. The pricing is pretty standard for Kith's limited edition drops too – fairly high but potentially worth it if you're a fan/eager reseller. By the time you read this (Saturday), it will have launched the previous day and probably have already sold out. I'll let you know if I end up buying a piece.
"Do Fashion Collaborations Need a Revamp?" – BoF
Continuing on the same theme of collaborations, Business of Fashion posted this interesting article about fast-fashion and designer collaborations like the H&M X [insert brand name] and the similar offerings from Target. The piece argued that the fast-fashion stores like the aforementioned should make the collaborations more like streetwear drops which generate buzz and have high resale values almost instantaneously. People camp outside for drops. People get in fights over drops. This is really what some people live for (and make profitable businesses from). The article came about after the news of the H&M x Erdem collaboration failed to generate the same level of noise that previous collaborations have (like Balmain, Alexander Wang, and Versace have, to name a few). The choice of Erdem did seem curious to me when the news was first announced because I didn't realize that the designer had enough mainstream success to really warrant a collection. I don't mean for that to sound negative but generally the brand that collaborates with H&M is one of the biggest brands in that moment in time, so for Erdem, a young London-based brand celebrated by the fashion set for the beautiful and intricate embroidered pieces, to receive the same honor seemed strange. However, H&M's communications director reiterated that they are excited about the brand and that they have many others on the list for the future. Regardless of who the name on the banner is, the collection will sell well and there will be people waiting for the store to open to get their hands on the goodies. I'll be interested to see what the pieces in this collection look like and how they can replicate the small details for a smaller price-point.
"The 2018 Met Gala Theme Is Here — & It Might Be Controversial" – Refinery29
Fashion and religion. Sounds like a strange combination at first glance but surprisingly there is a lot of crossover. If this Refinery29 article is anything to go by, Andrew Bolton will be dissecting that crossover in great detail and placing all of the overlaps in a neatly curated exhibition at the Met starting next May. If this is the case, I am excited because this also means we could get some really amazing Met Gala looks next year. Fashion and religion don't sound like they go hand in hand, but many designers force them to. Religion is often about modesty yet fashion can be extremist, baring all and showing off. Many designers use religious iconography in their pieces too. Think of Dolce & Gabbana's various odes to Catholicism, like dresses with the Virgin Mary embellished on the chest and large crosses. I think this could be a really interesting exhibition to see and I can already think of a few pieces that I can imagine may be included – Nicki Minaj's Versace pope outfit, Hussein Chalayan's veils that got more and more naked by the outfit back in the 90s, and lots of Jean Paul Gaultier. There are also various different routes that this could follow as there are so many religions and interpretations of them out there. This could be one of the most thought-provoking Met exhibitions in years and I can tell already that I want the coffee table book when the time comes!